Media reports on Katie Ardea and Braver Than You Know:

"Balmoral Mills author launches her debut novel — and reveals her true love" Fram Dinshaw, Truro Daily News, November 24, 2019, Truro, Nova Scotia
Balmoral Mills author launches her debut novel – and reveals her true love
Magi Nams fused her passion for Manitoba's wild landscapes with a riveting tale of romance and hardship
TATAMAGOUCHE, N.S. — The fluttering of birds and wind whispering through the trees is quite simply a part of who Magi Nams is.
Her love of nature also inspired her debut novel, Braver Than You Know, written under the pen-name of Katie Ardea. Her very nom de plume was inspired by birds, as Ardea Herodias is the great blue heron, often seen in Manitoba where her novel is set.
"I wanted an intriguing plot with twists and turns and heart-pounding suspense that would create this delicious sense of uncertainty," said Nams. "I always wanted to take a stab at fiction and I particularly wanted to write a love story."
Braver Than You Know features rancher Lincoln Steele and his lover Kimberley Colter, a wildlife photographer battling a work-related trauma. Set in farmland on the slopes of Manitoba's Turtle Mountain, the pair must overcome challenges including a love triangle and life-threatening situations.
Nams chose to set the story on Turtle Mountain because she and her husband, Dr. Vilis Nams of Dalhousie University Agricultural Campus, once lived in the area. Nams got to know the region intimately as her husband completed his doctoral research on the hunting habits of striped skunks.
"I love the natural world and wanted to make the setting come alive for readers, so they could experience it as though they were there," Nams said in an earlier release. "And yes, my husband and I both got sprayed by skunks!"
Nams herself is a keen hiker and birder, who has previously written non-fiction. This includes an independently-published travel memoir titled 'Cry of the Kiwi', about a family adventure in New Zealand.
Her other works include articles written for the children's magazine 'Ranger Rick' and various other essays broadcast on CBC radio.
Nams began writing Braver Than You Know in 2011, after attending a workshop hosted by the Romance Writers of Atlantic Canada. Over the next eight years, Nams "pecked away," at her book before stepping up the pace in the last 18 months.
"I'm really pleased it's out there," Nams said of her book.
Originally from Alberta, Nams and her husband moved to Balmoral Mills, outside Tatamagouche, after the latter started working at Dal AC.
A book launch for Braver Than You Know will be held on Nov. 30 at Tatamagouche's Fraser Cultural Centre, at 362 Main Street. It will run from 7 p.m. to 8:30 p.m.
Braver Than You Know is available in print from Amazon, and as an e-book from Amazon, Kobo, Apple, and Barnes & Noble.
"Nova Scotia writer taps Westman for novel" Kyle Darbyson, The Brandon Sun, December 1, 2019, Brandon, Manitoba
Nova Scotia writer taps Westman for novel
When Magi Nams finally decided to make the jump into writing fiction back in 2011, she knew the perfect place to set her Prairie-themed romance novel.
After all, this Nova Scotia resident and her husband spent several years living near the slopes of Turtle Mountain, south of Boissevain, in the mid-1980s, an experience that never left the back of Nams' mind in the following decades.
"I kept a journal and I kept nature observation notebooks while I was there," she told the Sun on Nov. 30. "So I went back to those and pulled out details from my time there and things that I saw in the natural world so I could bring them into the story."
After eight years of piecing these details together, Nams finally published her debut novel "Braver Than You Know" on Nov. 5 under her pen name Katie Ardea.
The novel's plot follows wildlife photographer Kimberley Colter and cattle rancher Lincoln Steele, who find a common bond through the emotional trauma they suffered in the past.
While the story and characters are fictional, Nams said she took plenty of inspiration from her own experiences living in Turtle Mountain and the people she got to know along the way.
"I think, in part, some of my characters sort of reflect some of the people that we met," she said. "They're not based on any particular person, but they reflect the atmosphere of where we lived."
Being a non-fiction author for many years, specializing in science and nature writing, Nams admitted it was a challenge to make the switch to a form of literature that champions raw, potent emotion.
"This was a steep learning curve for me, especially since some of my non-fiction writing had more of a detached feel to it," she said. "But I had to put that away, because the readers don't want to feel detached from the characters."
Thankfully, Nams said she got a lot of great pointers after joining the Romance Writers of Atlantic Canada, whose members provided plenty of tips and feedback on what makes a compelling love story.
Throughout that lengthy writing and editing process, the rookie author strove to construct a multi-layered story that didn't rely on central romance alone to draw readers in.
Outside of establishing an authentic setting, she also tried to spice up the proceedings by including lots of conflict, twists and strong secondary characters to help bring the story to life.
In fact, Nams is so happy with how this novel turned out that she's already in the middle of planning a "Prairie Hearts" book series set in the world she's created for Turtle Mountain.
While she's mostly in the planning stages right now for these sequels, Nams said these upcoming adventures will follow secondary characters from "Braver Than You Know" so that she can flesh out their backstory.
"It won't be a continuation of the two main characters in this novel, but they will appear in a smaller role as secondary characters in the other books," she said.
Now that she's at the end of a massive eight-year journey, Nams hopes other prospective writers follow her example and carve out their own space in the modern book market.
"I don't try to write like any other romance writer," she said. "I write what I would like to read … so my advice to any aspiring fiction writer is to find your voice and once you know your voice then use it."
"Braver Than You Know" is available in print from Amazon and as an e-book from Amazon, Kobo, Apple and Barnes & Noble.
"Author and Viking native launches debut novel" The Weekly Review, December 11, 2019, Viking, Alberta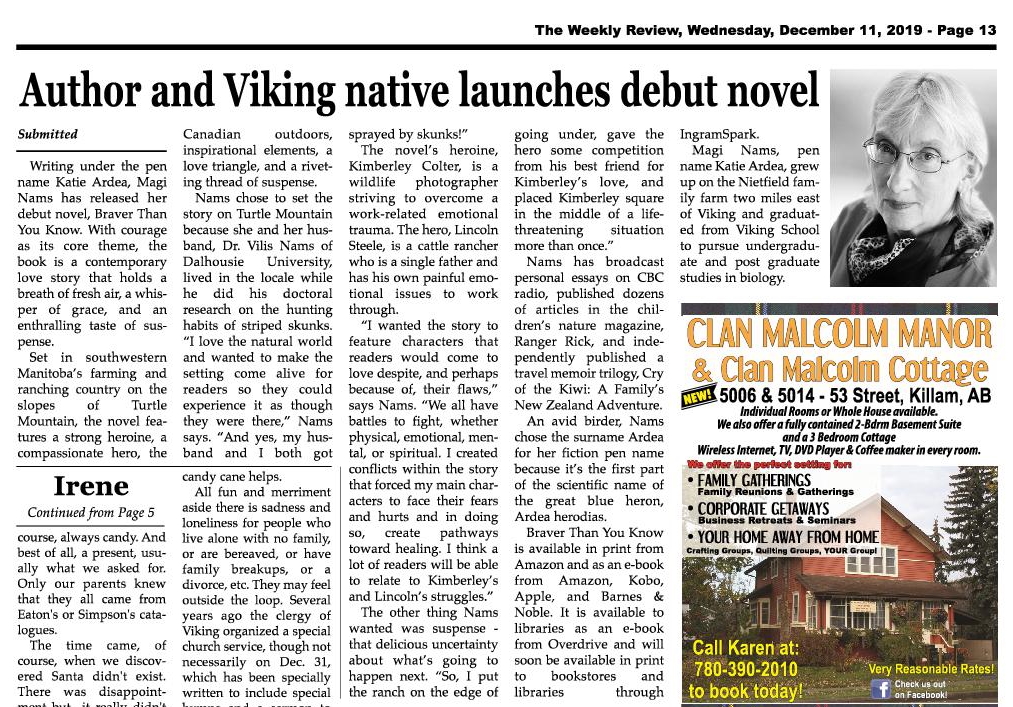 "Two new novels launched in Tatamagouche" Peter Martyn, The Tatamagouche Light, December 13, 2019, Tatamagouche, Nova Scotia